●●●

"Like an island from the south pacific rising majestically from the ocean floor"

●●●



Like an island from the south pacific, the majestically rising abruptly from the ocean floor. We could see the dramatic mountains from many miles away. As we approached the lee side of the island, with the sun low in the sky, the island looked like "Fantasy Island". Union Island is volcanic in origin and is only 3 miles long and about 1 ½ miles wide. It was thick with thick green rainforest, sharp rock peaks and one large jagged mountain towering several thousand feet above the rest. Union Island was our first overnight stop. We turned into the wind in front of Chatham Bay, dropped our sails and motored into a calm, turquoise bay carpeted at the end with white sand, palm trees and a few colorful wooden beach shacks. There were just two other yachts in the bay rafted up together. We slipped in and decided to motor to the other side of the bay close to shore before we dropped our hook. Chatham Bay is definably an anchorage that the regular yachties would not want you to know about. It was remote, pristine and truly picturesque. Time to go ashore and explore!
A short dingy ride ashore and we were greeted by Seckie, a colorful islander. He invited us down to his beach bar that was aptly named "Vanessa and Seckie's Sun, Beach and Eat Bar". We soon met Vanessa and learned that she had recently served TV chef Anthony Bourdain some conch stew for his hit series. That evening we were treated to a beach dinner that included fresh fish, delicious conch curry and goat stew. It was an excellent meal ashore, and very affordable considering the lively entertainment that followed. Later that night we were all doing the conga line and singing along with our new friends. Definitely the best hospitality and well worth the effort to get there!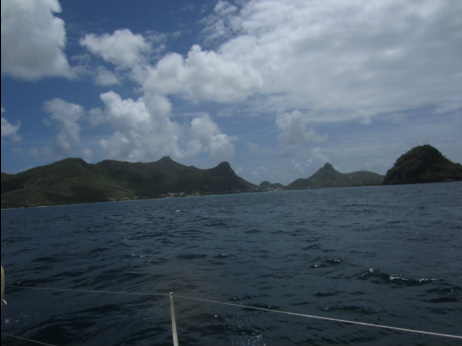 Approaching Union Island from the North
The south side of Union Island is more developed and is the home of Happy Island. This little man-made island was the creation of Happy, a local Rasta looking man, who claimed it took him a decade of hauling conch shells and dumping them on the reef to make the island. Happy Island sits just inside Clifton Harbor and is an easy anchorage. Happy will be glad to share with you his story and serve you up a few rum punches. Anthony Bourdain also had a few rum punches with Happy while making his TV series.

---
Clifton is a small bustling Caribbean town that has a deep channel where most of the supply boats for the island can enter. There is a great market and some really colorful stores. The Anchorage Yacht Club Marina is a great place for unloading garbage, buying ice, water etc. They also have free Wi-Fi internet access if you need to check your email or check on a few things.

Must See/Do
Visit Chatham Bay and eat at Vanessa and Seckie's Sun, Beach and Eat Bar $$
Get a rum punch on Happy Island
Spend the afternoon ashore in Clifton, explore the market and local shops – except Sunday


BEQUIA