ST JOHN CARNIVAL TOUR
(July 1- 8)


Experience the St. John Carnival






Sail. Relax and Explore the
Emerald Island of ST John - Limited Space!
Trip Summary



CaribeSail is taking you to one of the world's most amazing sailing destinations – St. John, US Virgin Islands. St John has some of the "best" beaches in the world and offers one of the Caribbean's most stunning settings. There is no better way to see the island than by boat. You will travel to St Thomas for an overnight where you can meet the rest of your crew. The following day, you will take a short trip to Red Hook were you will board you boat, receive orientation and then set sail and explore The emerald island of St John and its surrounding cays. The trip will include excursions ashore on in Cruz Bay (for the July 4 carnival parade),
Maho Bay
, Watermelon Cay and the
Anerberg
ruins. Also explore
Coral Bay
, and the pristine and idyllic Salt Pond, We take care of the boat and provide the captain (you are the crew). We have up to 2 boats catamarans available, all you need to do is sign-up, make your deposit and prepare for an unforgettable adventure. More details of the trip can be found on
Facebook
. The trip is always amazing! Check out the
Carnival Information
for current shows and schedules.
Boats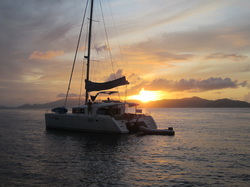 Sanctuary
Both these boats provide stability, comfort and are perfect for 6 -8 people. If not available, CaribeSail will provide a similar boat.
Blue Moon
---
Estimated Costs
Trip Deposit
A 50% deposit is required to reserve your spot. The balance is due 30 days prior to July 1. If you cancel 30 days prior to departure, there is a 50% deposit refund. No returns on cancellations less than 30 days prior, (some exceptions allowed.) If you must cancel and your spot is filled, your deposit is returned
Trip Costs
-
Don't Miss These Discounted Rates
!!
Sanctuary has been reserved for a special discounted rate of $4,500 for the entire 8 days for a maximum group of 6 (based on double occupancy) includes captains fees, running expenses and partial provisioning. Individual/couple rates based on 6 guests are as follows:
$980 per person based on double occupancy
$1,700 per person based on single occupancy
These costs include the cost of the yacht, the services of Captain Mark (30 years of Caribbean experience), light breakfast, lunch, 4 dinners and drinks, snorkeling gear, mooring fees, fuel, insurance, water, etc…(Almost everything but airfare, hotels and some dinners/drinks ashore!)
Blue Moon can be chartered for a special discounted rate of $6,500 for the 8 days/7 nights including captain fees, running expenses and provisioning!!!! Blue Moon can comfortably accommodate 6 individuals based on double occupancy but can hold up to 8 (the fourth cabin is smaller). Individual/couple rates based on 6 guests are as follows:
$1,130 per person based on double occupancy
$2,215 per person based on single occupancy
These costs include just about everything! The cost of the yacht, the services of a captain, cook, a free sleep aboard the night before, breakfast and lunch, 4 dinners, drinks, all fuel, water, mooring fees, cruising permits and fees. Cost do not include airfare, transfers and dinners/drinks or activities ashore.
Other Expenses

It is customary to provide a gratuity to the captain and the crew and also cover dinners when ashore. Gratuities have been included and range between 10-15% of the boat costs ($675 - $975 for the captain and crew). Dinners and drinks can be expensive, so plan a budget of $50-$60 a night or eat aboard. CaribeSail will work with crew and captain to work out a specific menu ahead of schedule. If your provisions include specialty items those items will be charged at cost. The captain will present a receipt for the specialty items when you arrive.

Whats Not Included
Airfare, all transfers and lodging before and after the trip, and costs ashore while aboard. Check for lowest fares and book with CaribeSail to save more!

CaribeSail Recommends Travel Insurance From Allianz