Interline Regatta - Trip Details
The Moorings Interline Regatta is The #1 Sailing & Party Event in the British Virgin Islands (BVI)! Last year was one of the best events in the BVI with over 300 Racers & Spectators. The Annual Interline Regatta is held every October! Join us to celebrate more than 32 years of hot racing and non-stop beach parties – all sponsored by Mount Gay, Heineken and Barefoot Wine!

Side effects of joining us will include, but are not limited to: Happiness, smiles, sun tan, smiling, forgetting about "work", bragging rights, general well-being, and world peace. We guarantee an impressive Caribbean sailing vacation! Don't be left out!

What's the Interline Regatta all about?
You will be a spectator, watching members of the airline industry, their family and friends race around the BVI. It brings together really cool people from around the world who are ready for fun – it's all about racing hard, and partying even harder. Each day brings a new level of excitement as everyone represents their favorite airline and each team challenges new friends with a serious, yet fun competitive spirit. Every night there are themed costume parties, lots of raft-ups, and much much more! Whether you are a Racer or Spectator cheering on your favorite team, you will not be disappointed!


Trip Options
We are offering two trip choices: 7 day/6 night option or a full 10 day/9 night option. The 7 day option is between October 10-16 and the 10 day option will extend 3 more days and conclude on October 19. CaribeSail recommends all 10 days in order to fully appreciate the festivities! If an overnight stay is required, you can sleep on-board the yacht (included) or stay in a hotel the night before. This option is available for those that want to arrive the day before or cant make the journey to the BVI in one day. Our yacht departs at 2 pm the day of departure.

The Yacht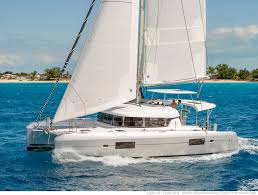 Makin Memories - 2016 Lagoon 45
Makin Memories, offers 4 queen size cabins, a convertible salon plus 2 single forward berths for the more agile members! Each queen cabin has en suite bathrooms and tons of storage space, plus of course, air conditioning. The salon is lovely displaying lots of light wood and neutral upholstery with ample room to relax or dine. Our maximum number of guest for this yacht is 8 so don't wait to long to make a deposit!
---
Estimated Costs
Makin Memories can be chartered for a special discounted rate of $1,650 per person for 7 days based on group of 8 guests and 4 queen sized cabins (based on double occupancy). CaribeSail has reduced the pricing substantially by passing on special discounts from the boat owners, obtaining discounted captain rates, and eliminating subcontractor mark-ups. This is a "bare-bones" charter but it still has all the bells and whistles one would expect. The forward berths are available for the more agile crew members at a reduced rate (contact us for pricing). The queen sized cabin pricing is provided below:
$1,650 - Approximately $236 per person per day based on double occupancy for 7 days/6 nights*
$2,000 - Approximately $200 per person per day based on double occupancy for 10 days/9 nights**
* Cost is based on 8 people booking. If less than 8 people book, pricing will be adjusted to cover costs
** Minimum of 4 guests must confirm the 10 day option to receive this price
These costs include the yacht charter costs, basic provisioning, (breakfast, snacks, lunch, sundries, water, juice/soft drinks, and two dinners on-board), optional sleep on board the night before, experienced captain, snorkeling gear, 2 SUP boards, mooring fees, fuel, insurance, fresh water, etc…(Almost everything but your alcoholic drinks!). To keep costs down, we will require each paying guest to come on board with a minimum two bottles of their favorite liquor/wine and if you want beer its BYOB. You will have ample opportunity to purchase locally before and during the sailing trip. Guests will also be expected to share/assist with preparation of meals, galley duty, and assist the captain as needed.
Trip Deposits
Minimum deposit for 7 day trip: $575
Minimum deposit for 10 day trip: $680
If you elect to make the minimum deposits above, you will be enrolled in our EZ-Pay plan. (see payments below). If you
do not
wish to use our EZ-pay plan the following deposits are required:
Deposit for 7 day trip: $650
Deposit for 10 day trip: $750

Payments:
If you are enrolled in our EZ-Pay plan, you will be billed two additional payments, each payment is due at the beginning of each month. The EZ-Pay plan includes a small finance charge that is applied each month. All payments must be received no later than October 1. See below for examples:
7 day trip monthly payment: $575

10 day trip monthly payment: $680
If you do not want to enroll in our EZ-Pay plan, you can make the regular deposit and pay the final balance no less than 30 days prior to the trip start date. In the event that any payments are not made, all funds paid to CaribeSail LLC are forfeited and you may loose your cabin/place.
Cancellation Policy
:
No refunds for cancellations if 60 days or less prior to the trip start date. If you must cancel within 60 days or less, and your spot is filled, 50% of your deposit may be returned. For this reason we encourage you to protect your investment with trip cancellation insurance within 10 days of making your deposit. We recommend that you contact us before making a deposit to make sure that all terms and conditions are understood.
Whats Not Included
Round Trip airfare to St Thomas U.S. Virgin Islands or Beef Island, Tortola and hotel, transportation to/from the charter boat from the ferry or airport and all dinners on-shore are not included in the costs. You will need a valid passport to enter the BVI. Please check with us to help you discover the lowest/best airfares and hotels if needed or contact our travel agency Cool Breeze Travel to assist you with making all your arrangements.