ANTIGUA, GUADELOUPE AND DOMINICA






Sail, relax and explore some of the most amazing Caribbean islands!
Trip Summary
Antigua combines lovely beaches and spectacular bird and wildlife with some serious nightlife.
Guadeloupe
is also known as "Karukera" the "island of beautiful waters".
Day 1 – Arrive Antigua. Sleep aboard boat at marina or hotel room
Day 2 – Explore historic English Harbor. charter briefing, boat check, provisioning. Depart marina for nearby anchorage on Antigua
Day 3 – Set Sail for Guadeloupe, Dashaies (40 NM 6.5 hours). Clear customs, free afternoon to Explore Dashaies or Relax!
Day 4 – Explore Guadeloupe / free day to explore Guadalupe via rental car or guide,
hike the rivers/mountains behind Dashaies, botanical gardens, snorkel or dive.
Day 5 – Set sail for Le Saintes (25 NM, 4 hours (lee of Guadeloupe). Free afternoon to explore the Saintes
Day 6 – Set sail for Dominica, Portsmouth (20 mi, 3.5 hours). Explore Forte Shirley and trip up the Indian River.
Day 7 – Explore Dominica. Free time to explore Domnica's waterfalls, nature hiking, and scuba diving
Day 8 – Set sail for Le Saintes (20 mi, 3.5 hours). Free afternoon to explore the Saintes
Day 9 – Set sail for Guadeloupe, Dashies (25 NM, 4 hours). Free Afternoon to Explore Dashies or relax
Day 10 – Set sail for Antigua, English Harbor (40 NM 6.5 hours). Check into Base and boat debriefing
Day 11– Fly home and start planning for next year!
Boats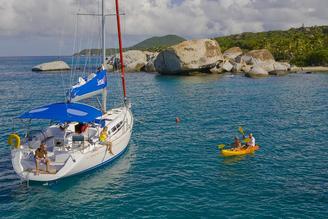 SunSail 44i -
Jeanneau 44
. If not available, CaribSail will provide a similar boat
---
Estimated Costs
Trip Deposit
A 50% deposit is required at least 60 days prior to reserve your spot. The balance is due 30 days prior to departure. If you cancel 30 days prior to departure, there is a 50% deposit refund. No returns on cancellations less than 30 days prior, (some exceptions allowed.) If you must cancel and your spot is filled, your deposit is returned
Trip Costs - Don't Miss These Discounted Rates!!
The luxury yacht is chartered for a special discounted rate of $8,900 for the entire 10 days for a maximum group of 6 (based on double occupancy). Individual/couple rates are as follows:
$1,482 per person based on double occupancy (that's just $148/day)
$2,964 per person based on single occupancy (just $296/day)
These costs include the cost of the yacht, the services of Captain, light breakfast, lunch, booze on board (yes drinks!), snorkeling gear, mooring fees, fuel, insurance, water, etc…(Almost everything but dinners!)

Payment Plans
CaribeSail offers easy monthly payment plans tailored to your budget. The sooner you make a deposit the more time you have to pay. A minimum deposit of 25% is required.


Other Expenses

It is customary to provide a gratuity to the captain and the crew and also cover dinners when ashore. Gratuities range between $160 and $250 for the captain and $80 - $125 for crew. Dinners and drinks can be expensive, so plan a budget of $50-$60 a night or eat aboard. Captain Mark will work out a specific menu ahead of schedule. If your provisions include specialty items or dinners aboard, those items will be charged at cost. The captain will present a receipt for the items when you arrive.

Whats Not Included
Round Trip airfare to Antigua - Check for lowest fares and book using
CaribeSail
CaribeSail Recommends Travel Insurance From Allianz