●●●

"The best way to explore the Grenadines is without a doubt by boat"

●●●




Without a doubt, the best way to explore the 32 islands and cays that make up the Grenadines is by sailboat. CaribeSail decided to charter a 43 foot Belize catamaran provided by TMM charters, located in St. Vincent. The boat was comfortable for 8 people, despite no air conditioning. She was an older boat and probably could have been upgraded; however, she was clean, functional and most importantly her price was right. CaribeSail coordinated all the fees, provisioning, and also provided a captain to keep us out of trouble.

The deep water between the islands is what makes sailing in the Grenadines second to none. You will experience true blue water cruising without losing sight of land. The seas are dark cobalt blue as soon as you get away from St. Vincent. In fact, some of the deepest waters are just between the southern end of St. Vincent and the closest inhabited Island of Bequia (pronounced Beck-way). This area is known locally as the "Confused Sea" because of the extremely large ocean swells, some up to 40 feet in size that move back and forth across the abyss below. The currents are also extremely strong in this area.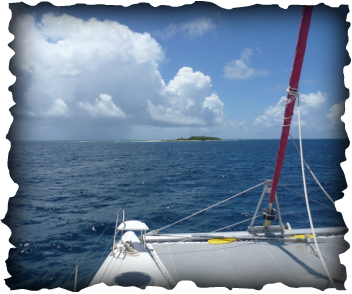 Sailing across the "confused sea"
The winds are pretty much constant and blow out of the northeast, making down island sailing a nice beam reach with some occasional downwind sailing. Wind speeds are traditionally blowing at 10-15 knots making it easy to use all your sails. The best way to see all the islands in just 8 days is to sail as far south as possible on your first day (it helps if you spend the night aboard the day before for an early departure). In this case, we sailed on a southeasterly course that took us about 2 miles east of Bequia, and then due south past the leeward side of Mustique. After passing Mustique, we took a southwesterly downwind tack towards the leeward side of Canouan and Mayreau. As the sun started to get low in the sky, we elected to pull into Chatham Bay, on the leeward side of Union Island. The sail from St. Vincent to Union Island took approximately 6 hours and covered approximately 40 nautical miles. We averaged approximately 6-7 knots the entire time until we turned downwind. The long sail allowed several of our crew to get their hooks wet and catch some fish! The seas were at times a little rough, especially the area between St. Vincent and Bequia, so those that get sea sick should definitely take some Dramamine the day before.


---
BEQUIA