ENDLESS POSSIBILITIES
EXPLORING ST. VINCENT AND THE GRENADINES

This is a short guide for anyone wishing to explore St. Vincent and the Grenadines by sailboat.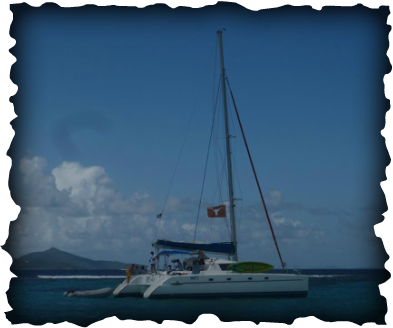 I often wonder why I write as I am not a writer. I realized that I write because it's a way for me to express what I am thinking and it seems I am always thinking about sailing somewhere in the Caribbean. I want to share my passion with as many people as I can! Life is short so don't just dream about these places, make it happen! Sailing the Caribbean is not as expensive as you would thing and in most cases can be a very cost-effective way to travel. Sailing also allows you to immerse yourself in a culture full of color, history and a certain amount of revelry. The Caribbean is rich in culture, natural beauty, and nautical history. If you are looking for a way to expand your horizons, swim in many shades of turquoise blue water, walk on deserted white sand beaches, explore islands rich in Caribbean culture, and a learn a little about sailing, read on!

If you are like me and love a good adventure, Saint Vincent and the Grenadines provides the perfect place! With more than 32 Islands and Cays between Saint Vincent and the Grenada, there are literally endless possibilities as all the islands offer a unique culture and physical appearance. They are also relatively easy to reach via sailboat once you make it to Saint Vincent. The remote location, the many uninhabited islands, and the deep blue water between them, makes Saint Vincent and the Grenadines one of the best places to sail in the world!
---
GETTING TO ST. VINCENT AND THE GRENADINES
Getting to St. Vincent from the mainland United States can be in itself an adventure. Travelers wishing to sail the Grenadines for the first time will quickly realize that it is virtually impossible to travel directly to St. Vincent from the mainland United States in a single day. The most common route, and the one CaribeSail recommends is to fly to Barbados first, spend a night or two in a hotel and then fly to St. Vincent the following day. There are several small airlines such as LIAT that offer daily flights directly to ST. Vincent for approximately $120 US each way. CaribeSail recommends booking your tickets to/from Barbados to St. Vincent online in advance to secure a seat as the planes are relatively small. The inter-island flights between Barbados and St. Vincent are frequent, but make sure you book a direct flight, some flights go to other islands such as St Lucia or Grenada first. If you don't, a one hour flight could take more than 3-4 hours. We found that assigned seating is not enforced; however, they do have strict baggage requirements. An overweight bag or an additional bag can cost an extra $45-50 US. There are additional departure fees and taxes that can also quickly add up. Check the fine print and make sure you understand all the fees you may incur, especially is you book on line and use a credit card, your bank may charge you hefty international fees.